Doux's News

Advice ...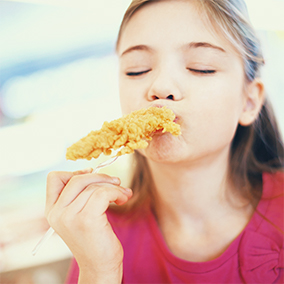 …nutrition
5 good reasons to integrate poultry into your diet:
• source of protein: essential for health
• fewer calories than most other meats: no need to hold back
• rich in vitamins: necessary for the proper functioning of our body
• provides trace elements and iron: ideal for a fully healthy immune system
• And because eating is one of life's great pleasures, the different types of poultry (chicken, turkey, duck, etc.) mean you'll have a variety of tastes!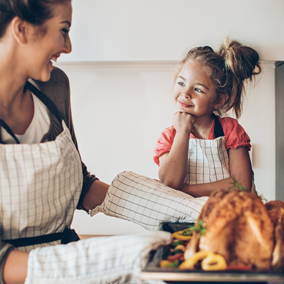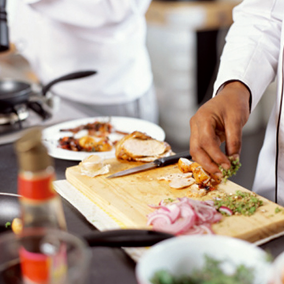 …cooking
Doux breaded products are designed to be reheated in the oven, frying pan or deep fryer so that you can eat them as you wish.
If one of these reheating methods is not specified on the packaging of your Doux product, this means we believe that it will not retain all of the flavour. In any case, we do not recommend using the microwave, as this will alter the crispness of the breaded coating.
For quick and easy cooking, our prepared products can be reheated without defrosting!

How do I defrost a chicken?

For tastier meat and to preserve the cold chain, we advise you to take your Doux frozen chicken out of its packaging, then place it in a covered container in the refrigerator at a temperature below 4°C for 12 to 24 hours, depending on its weight (allow about 10 hours per kilo).

Why should I never refreeze a defrosted product?

Freezing stops or greatly slows down the growth of bacteria in food. Thawing these foods restarts the multiplication of germs that was slowed down by the cold. It is therefore important to consume the product as soon as possible after defrosting, taking care to follow the instructions on the packaging.

When refreezing a defrosted product, the proliferation of bacteria is further increased because a household freezer is not as fast and efficient as professional equipment.

Consuming a product that has been refrozen can therefore present a health risk, for example by causing food poisoning due to excessive growth of certain bacteria.

What is a cooking timer?

We include a cooking timer with some of our whole turkeys. It is a small white and red plastic device that is inserted into the poultry. Its colours make it easily visible when you remove the product packaging. It is intended to make it easier for you to monitor the cooking of the meat.

It's very easy: the upper part of the indicator pops out when the bird is cooked, which lets you easily check if your bird is ready, all without even opening your oven!

The cooking timer is designed using materials suitable for oven cooking temperatures. Remove it before serving the bird. If your Doux turkey includes a cooking timer, this will be specified on the packaging.
Doux keeps you informed
Look no further, all our news is here
Doux has innovated to offer you our Traditional Style Mince Burger!
Doux reinvents a classic of traditional butchery: The Chicken Burger!
Using chicken thigh meat, Doux offers a ready-to-cook minced chicken burger! Baked, fried or grilled, any type of cooking method is delicious.
The "large grind" mincing method provides a tender texture ideal for any meal or to make burgers!Free from additives and preservatives, the traditional style burger is a product for the whole family.
Feel free to try it today!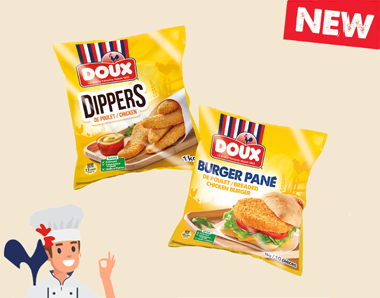 New from the Family product line!
Doux is expanding its breaded offer with Chicken Dippers and the Breaded Chicken Burger.
Two new products for your pleasure!Dippers can be eaten with fried vegetables or as tapas dipped in your favourite sauce.
The Breaded Burger is ideal to make hamburgers.
The breaded coating adds crunch to your meal.Always free from colouring and flavour enhancers, these products are perfect for family meals.Discover them now!